Compost Testimonies
updated Jan 3 / 2021
Sittler has been designing and building equipment for over 40 years. Thatís experience you can count on.Our windrow turners, compost/lime spreaders, trommel screens and baggers are built to fit the growing need for efficient nutrient recovery and distribution in agriculture, industries and municipalities. We offer a new alternative to waste management. Using our compost equipment saves time and money. Compost is mixed consistently, locking in odours, allowing raw waste to be converted to humus rich top soil in 6-10 weeks. Ideal for recycling manure, sewage sludge, paper products, animal carcasses, food scraps, leaves, grass, tree limbs, and the bioremediation of contaminated soil.
.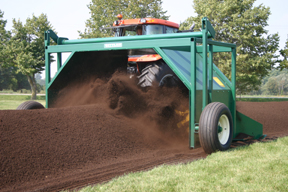 Experience You Can Count On
40 years of Experience Designing, Building and Using Compost Equipment
Sittler designs have evolved with diligent research and development to meet the growing needs of the compost market and to provide the most practical affordable efficient windrow turners available. Our machines are designed and manufactured so the end user will make the highest quality compost from agricultural, industrial or municipal waste. That is why they are recommended over any other make by Dr. Elaine Ingham, founder/president of Soil Foodweb Inc., for having the best performance of any windrow turner on the market.
Friendly, Reliable Assistance
Global Repair Ltd. International Marketing Office for Sittler Manufacturing, provides practical, easy to understand educational material to coach the compost manager and assist in smooth successful production of quality compost. With the implementation of hundreds of compost operations in many countries throughout the world, composting all types of waste, we have coached and consulted for Feedlots, Dairy, Horse, Hog, and Poultry operations and have advised on the composting of everything from palm tree leftovers to mink carcasses. Thatís experience you can count on. With machines still in use after 15 years, hereís what some of our clients had to say;
Testimonies
"We are very satisfied with this choice, very good equipment, strong and low maintenance cost. In 11 years of work, and after about 20,000 metric tons compost produced, we changed only 3 bearings." Gabriele
"Having used Sittler turners for the past thirteen years I can say, without reservation, that Sittler's are the best machine for the money on the market today.
Over the years I have purchased six (6) Sittlers and have one more on order today. In addition, I recommended Sittlers to many others including at least two others who have purchased and are satisfied users of Sittlers.
Being well built, properly engineered, and designed for the on-farm user (I operate on large dairies of approximately 2000 cows each) this machine is perfect for me. With proper maintenance I expect each machine to operate over ten years (I'm going for thirteen on my oldest machine).
I can strongly recommend Sittler machines".
Roger S. Wood, Compost West Inc.
"I have a program that is working and am reluctant to change because keeping the golf course in good condition is important. If I didn't think it was working, I would tell you. For divots on the tee boxes, ABC compost is the best product I have ever used, the grass recovers much more quickly than with the 40/60 sand/peat mixture I was using before. "
Stewart Bibb, Hy Hope Golf Course
"The fairways and tee boxes on which we used exclusively compost are faring equally well in the first year to the other fairways and tee boxes."
Dave Bibb, Hy Hope Golf Course
"I just want to thank you and let you know that purchasing the Compost turner was the best investment I have ever made. I would definitely recommend your product to anyone in the world. It is a very simple to operate and maintain and I really enjoy using it."
Austin Landscape Supplies
Sittler manufacturing has been designing and building compost equipment for over 40 years. Quality, affordable craftsmanship with innovative design.

To order, or for more information please email: sales@globalrepair.ca, or call 1-866-271-0719, 1-416-686-3690,
fax 1-416-686-1744

This site is copyright protected and may not be reproduced in whole or part, without written consent from the webmaster.
Copyright © 1996-2021 Global Repair LTD